Piraka



Leader

Zaktan

Race

Skakdi

Allies

Brutaka

Enemies

Toa Nuva
Toa Inika
Matoran
The Piraka are a gang of Skakdi that roamed around Voya Nui. They are the enemies of the Toa Inika. Their leader is Zaktan, but since his death and the others' fusion, the Piraka are no more... or are they?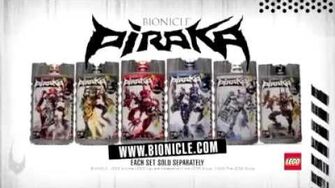 Vezok, the blue Piraka, was zapped by the Spear of Fusion by his ally, Hakann. The spear was at a reverse setting, and it created Vezon.
All of the Piraka have nicknames (not counting Vezon). Avak is "The Trigger", Reidak is "The Tracer", Thok is "The Drifter", Zaktan is "The Snake", Vezok is "The Beast" and Hakann is "The Bully".
They have a house. It looks like a very large garage.